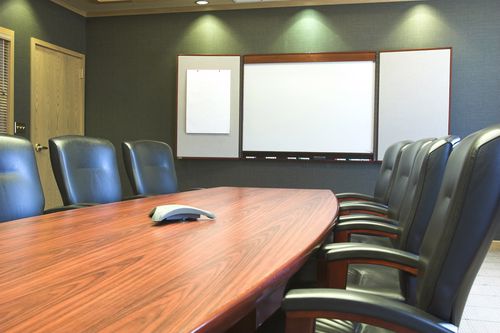 Company workplaces in every industry are becoming more collaborative. Technology has enabled employees to share more at a faster rate, boosting the value of teamwork in company culture. Meanwhile, many businesses are realizing the need for more meeting spaces. Conference rooms play an essential role in nearly every office. Here are two considerations to keep in mind when designating and decorating a meeting room.
1. Furniture

Conference tables are an important investment. It's very important for planners to keep in mind how many people gather at once and how and why they meet. Tables should provide enough room to hold projectors, blueprints and other materials. In addition, they should be large enough to seat employees comfortably.
Task chairs are also important to keep in mind. Because meetings can go on for extended periods of time, it's a good idea to purchase items that will keep employees comfortable and focused.
Purchasing used office furniture is a great way to stock a conference room without spending a fortune.
2. Space

Having space around furniture and at the conference room entrance makes the gathering area more aesthetically pleasing. This can boost employee motivation and appeal to clients and potential new hires who visit the office.
Want to create a comfortable, collaborative work environment? Visit the Office Furniture Warehouse website to complete your office landscape.