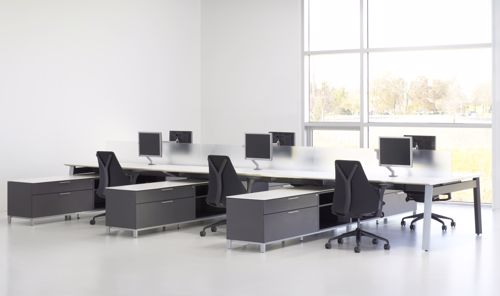 Many businesses make every effort to promote their brand message, but some forget to make sure the office environment matches current branding. Clients and visitors form an opinion about the company as soon as they step inside the door, and the office furniture and layout should solidify the company's core values.
Everything about a company's physical space - including the lighting, colors, furniture design and layout - can be integrated to communicate a coherent message that reflects the brand.
A business that claims to have a collaborate environment, but isolates every employee in a cubicle, transmits the message that the company does not practice what it preaches. To promote a truly collaborative environment, the office should invest in some round conference tables, conference seating and lounge seating arranged close together for efficient communication.
A company that claims to be innovative should make sure it uses up-to-date technology and accessories that use up-to-date LED technology.
Health and medical businesses would be smart to invest in chairs with multiple locking positions that support good posture, palm rests and maybe even some foot pillows.
Want to create a comfortable, collaborative work environment? Visit the Office Furniture Warehouse website to complete your office landscape.